Death Threat: 'Last Dayz' 20th Anniversary Show – Tickets – Space Ballroom. – Hamden, CT – November 8th, 2019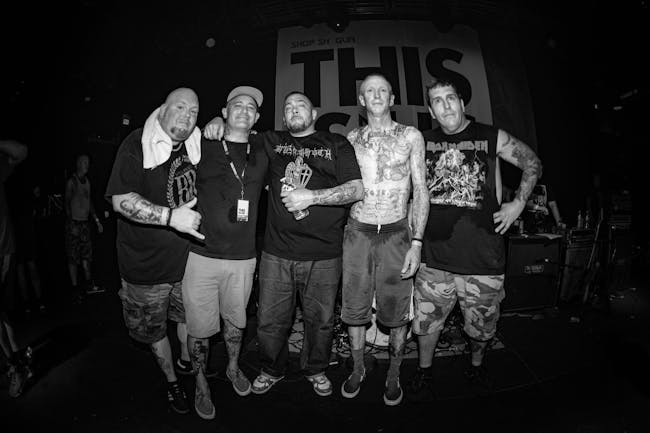 Premier Concerts and Manic Presents:
Death Threat: 'Last Dayz' 20th Anniversary Show
Billy Club Sandwich, World Demise, Carried By Six, Nightmare Solution
Space Ballroom.
Hamden
,
CT
$18.00 - $20.00
Sales Ended
General Admission Standing Room Only
DEATH THREAT
Formed in 1997 out of former Hatebreed members, Death Threat's hardcore metal sound lands somewhere between Sick Of It All's aggressive approach and Napalm Death's thick sound. 1998 saw the release of their debut album, Last Dayz, on Stillborn Records. Quickly making a name for themselves with their popular live shows, the band traveled the East Coast wich eventually led to them signing with Triple Crown Records. Their next album, Peace & Security, came out in 2000 and was followed by more touring, including a memorable stint with Buried Alive. They returned to the studio in 2001 and by the spring of the next year, they had recorded For God and Government and it was released on Triple Crown Records. Before the dust could settle, they had already left for Europe to play with Agnostic Front and The Distillers to restart their grueling touring lifestyle. The next year, a split 7"/cd with Over My Dead Body led to a co-headling tour between the two artists. After much touring, the band recorded Now Here Fast in 2004, and followed up with Lost At Sea in 2009 on Reaper Records, and a split 12" with Rude Awakening in 2012 on BBB Records. Death Threat is still active after over 20 years, and a definite staple in the hardcore/punk scene. Death Threat is doing very limited anniversary performances with the lineup from the first record, Last Dayz, through 2019.
BILLY CLUB SANDWICH
To say the hardcore scene in New York City in the mid-1990's was a rough place is an understatement. Mosh pits sometimes had more in common with a prison riot than they did with the "united & strong" mantra that was given to us a decade plus earlier. Places like The Wetlands and Coney Island High had become the venues in NYC that were the go to places to play for bands like Madball, Crown Of Thornz and 25 Ta Life. In 1996 Billy Club Sandwich put out their first demo which was basically the start of a 14 year ASSAULT on the world of hardcore. Although primarily based in the Bronx BCS made a name for themselves at a small club on Northern Boulevard in Queens called Castle Heights and along with bands like Irate, Everybody Gets Hurt, Eye 2 Eye, and Sworn Enemy made up a scene within a scene that featured some of the hardest hitting NYHC around. BCS went on to build worldwide appeal with tours in Europe, Puerto Rico as well as Japan with multiple releases over the course of their career including a documentary style DVD of their 2009 Japan Tour called "Japan Suspects" which came out just last year. Things fizzled out in 2010 with some personal issues within the band but 2016 brought new life to BCS which included their long awaited return May 14th in NYC at the 2016 Black 'N Blue Bowl. BCS returns with their last and most familiar lineup which is: Martin Gonzalez – vocals, Tony "Malone" Ranalli – guitar, Gary Muttley – bass, and Glen Lorieo – drums.
Links: Official Website | Facebook | Instagram | Spotify
WORLD DEMISE
WORLD DEMISE was formed in April of 2018, yet they've already forged a name for themselves in the New Jersey scene with their metallic style of hardcore. Citing influence from the likes of Marauder, Cold As Life, Hatebreed, and Biohazard, the band delivers deep grooves and heavy riffs without going full-bore into beatdown realm or sacrificing their anthemic energy.
Their first recorded effort, WORLD DEMISE presents their eponymous debut EP, with seven new songs recorded in January and February of this year. World Demise was engineered, produced, and mixed by Nik Bruzzese at The Lumberyard in Hammonton, New Jersey, and mastered by Alan Douches at West West Side Music. The track "Dead & Gone" features Brendan Garrone from Incendiary who supplies additional vocals recorded by Anthony Corallo at Chapel Black Studios, and the cover art was handled by Chad Lawson.
Links: Official Website | Facebook | Instagram | Twitter | Spotify
CARRIED BY SIX
Carried by six was formed in early 2019. Featuring past and present members of Lifeless, Mushmouth, Fury of five, and Trail of lies. Basically a group of musicians from different areas of the east coast who decided to do something different and bring their own influences to the table. CB6 released their first demo in September 2019 entitled "slow death". Available on Spotify, band camp and all other media platforms This is just the beginning. Look out for new music and shows in your area.
Links: Official Website | Facebook | Instagram | Spotify
NIGHTMARE SOLUTION
Nightmare Solution is a hardcore punk band from New Haven influenced by late 90s- early 2000s Swedish and American crust/d-beat. Former and Current members of Man the Conveyors, Chem-Trails, Shot in the Head, Amnesiac, Mouthbreather, They and the Children, and Oiltanker. EP coming out December.

Venue Information:
Space Ballroom.
295 Treadwell Street
Hamden, CT, 06514