Silversun Pickups – Tickets – College Street Music Hall – New Haven, CT – March 3rd, 2020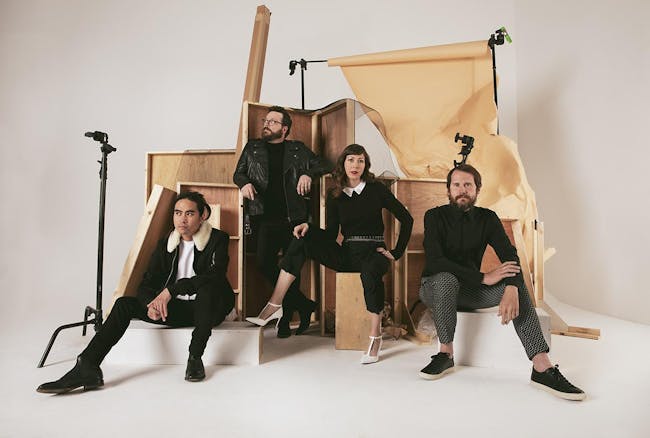 Premier Concerts and Manic Presents:
Silversun Pickups
The New Regime
College Street Music Hall
New Haven
,
CT
This event is General Admission Standing Room on the Floor and Reserved Seated in the Balcony.
SILVERSUN PICKUPS
Brian Aubert (guitar, vocals) * Nikki Monninger (bass)
Joe Lester (keyboards) * Christopher Guanlao (drums)
Silversun Pickups have always considered their sonic density a source of pride: The Los Angeles band's four studio full-lengths—including their 2006 gold-selling debut, Carnavas, which spawned the hits "Lazy Eye" and "Well Thought Out Twinkles"—reveal additional sonic gifts with each subsequent spin.
Their fifth album, Widow's Weeds, also caters to an adventurous, patient group of listeners. Strident acoustic strumming tussles with raging electric riffs, as urgent, precise beats and moody electronic pulses percolate underneath. The band members—which, in addition to Aubert, include bassist Nikki Monninger, drummer Christopher Guanlao and keyboardist Joe Lester—were also in agreement with the album's starting point (the urgent synth-rocker "Neon Wound") and closer (the aggressive, throttling "We Are Chameleons"). The band admitted that everything in between, including how the rest of Widow's Weeds was sequenced and how the album unfolded, often surprised the band.
"We didn't know exactly which emotional level the lyrics were going to start at," Aubert says. "I was like, 'Are they going to be angry, with these crazy times?' Everything seems so polarized and bizarre and scary. All of these things affect you. And then as they were coming out, it was like, 'No, they sound like they're kind of mourning.' I couldn't quite put them all together."
To make sense of these ideas, Silversun Pickups enlisted a long-time friend: producer Butch Vig (Nirvana, Smashing Pumpkins, Sonic Youth). Incredibly enough, this was the first time the band had worked with Vig, even though the idea of collaborating had been floated for years. The timing didn't feel right until now, Aubert says. "With the ideas that were popping around in my head, it felt like, 'God, this would be awesome; I think it's time. If Butch is interested in doing this at all, let's just call him.'"
Vig and mixer Billy Bush helped Silversun Pickups craft a confident, extroverted album in which every instrument is clearly audible in the mix. Pulsing, Cure-like keyboards hold their own against slashing riffs on "Neon Wound"; antique-sounding violin and cello enhance fragile acoustic strumming on "Straw Man"; and the spring-loaded, glammy "It Doesn't Matter Why" boasts pogoing beats and needling pizzicato plucks. The album's more restrained moments also maintain this crispness. "Simpatico" is "the closest we'll get to a James Bond song," says Aubert, who immersed himself in movie scores as the album was coalescing. Widow's Weeds strikes a perfect balance between provocative noise and distortion, and lush, introspective pop tranquility.
The band members also decided not to go overboard layering on instruments and sounds, which contributed to the album's clearer approach. "We made a conscious effort to rein in the electronic stuff a little bit, and have more pianos and organs," Lester says. "There's still synthy stuff on there for sure. But we have strings again, which we hadn't done for a couple of records. And there's a lot less sequenced electronics. It was like, 'Let's strip the palette a little bit, and see what happens.' And that goes back to the directness of things."
Vig's versatility and songwriting background helped the band shape other songs—including and especially "Don't Know Yet," on which glitchy, taut electronic textures segue into explosive choruses drive by brusque drums and noisy guitars. "It has moments of intimacy, but then it really comes alive and big-sounding," Guanlao says of the song. "That's all Butch. We would have probably gone a totally different direction if it wasn't for him hearing that this once-intimate, mellow song can be really boastful and rocking."
In the end, recording with Vig surpassed the band members' already-high expectations. "He really listens to each band member, and he puts a great value on each individual, and what they can add to the music," Monninger says. "It was very collaborative with him. He's such an easygoing person, and he put everybody at ease." That camaraderie translated into a studio environment that involved intense and serious hard work unfolding in a jovial, even lighthearted, manner. "We had a really fun time recording this album," Guanlao says. "He really did get the best out of us. We didn't want it to end."
Despite the halcyon studio time, the band members were wrestling with challenges in their personal lives. The album had to be done in two separate blocks of time, since Vig had Garbage tour plans already on the calendar, which left Silversun Pickups with a break between sessions. During that gap in time, Lester's father passed away. Aubert, meanwhile, found himself in an extremely dark place, for reasons he couldn't immediately explain.
"We started making this album about mourning, and it's like, 'What are you mourning? Are you really mourning politics and stuff like that? Or what is happening?' I didn't realize that I was finding myself in this space where I completely tried to take on everything myself. I couldn't ask for help; I couldn't let anybody in. That led me to start drinking in a different way, that I never did before."
As a result, Aubert—who was already feeling "emotionally closed off," as he puts it—fell into a deep depression. "I didn't know how to get out of it," Aubert says. "Finally, I was just like, something big has to happen." His solution was getting treatment and getting sober during the gap between recording sessions—a decision that immediately improved his mental health and creative outlook.
Unsurprisingly, Aubert also had a much different perspective on his Widow's Weeds lyrics post-treatment, and understood more what messages he was trying to convey with the album. "The record does have a mourning vibe, but it's not sad," he says. "It's change. It's growing up, and moving on and letting go of things. And it's okay to be sad about those things, and mourn them. It's actually healthy to do so, and take the time to do it. At the end of the day, it's going to be much better and much more fulfilling when you get through it."
"When I got sober, and took a little time to myself to move as a human, we came back at the record again," Aubert says. "Then it was like, now we're back into the record, and writing again. It was wild. Things are really changing, and I'm starting to emotionally connect to things, and starting to take care of myself. I'm starting to ask for help."
Aubert's bandmates also saw an immediate change in him as they reconvened to finish Widow's Weeds. Guanlao noticed that the vocalist was opening up to him and the rest of the band more, and allowing himself to be more vulnerable, while Monninger observed increased clarity. "I'm really proud of him for coming through all this. He focused so much on the album and put so much of his heart into it—as we all did, but especially coming out of all that, he needed something to really focus on." Lester also saw big, positive differences in his bandmate. "It was like, 'okay, this has actually been really good; he's gotten stuff that has probably been bothering him for a long time sorted out.'"
In a nod to Aubert's healthier mindset—and in a big change from past working environments—the members of Silversun Pickups welcomed friends and family into the studio as they were recording. "This was the first album where we were open," Aubert says. "Not just with Butch, but with people around us. We played stuff for people. We never used to before. We'd play a little mixing and things like that. We were too shy." Creating this kind of social, nurturing atmosphere added levity and accountability, and kept everyone in the band grounded. "Doing this in front of people is so much more enlightening, and really helps you focus on things," Aubert says. "We were exposed. I see how that can be scary to people, but for us we really thrived on that."
Widow's Weeds ends up being about rebirth and renewal, facing darker elements of the soul (or society) head-on, and choosing to either engage—or leave them behind. This shift toward blunt candor wasn't lost on Lester. "I feel Brian's lyrics have gotten more direct over the last couple of records. He's much more open and less coy about what he's singing about. There's less trying to put Vaseline on the lens."
Over the years, Silversun Pickups have racked up 210 million worldwide streams and 10 Top 20 hits on Billboard's Alternative Songs chart, led by 2009's ferocious chart-topper "Panic Switch." Nearly 20 years after the band formed, it's not lost on Monninger that they're one of the few groups they've grown up with who have sustained a career. "I don't know many bands that have lasted that long," she says. "But we started as friends first, and we care about each other—you know, this is our second family. We really believe in what we're doing. We're going to take it as far as we can."
For Aubert, moving forward involves staying connected to his own self (and remembering to prioritize self-care) and being attuned to creative impulses when they arise. If that means going outside of his comfort zone, so be it. "This album feels the most naked out of all of them," Aubert says. "That's scary at first. But that goes into my whole headspace. That goes into how things went down. It was like, 'Hey man, you were so unaware of the things you needed, and so closed off. Just do it. Stop hiding. It was crushing you. Don't be afraid.'
Links: Official Website | Facebook | Instagram | Twitter | Spotify
THE NEW REGIME
When he first decided to test his abilities as a songwriter in 2007, Ilan Rubin, recorded a bunch of tunes and released them a year later as his first full-length debut Coup under the moniker The New Regime. Since then, Rubin has put out 3 releases and is getting ready to issue Heart Mind Body & Soul, the follow up to his 2015 record, Exhibit B. The third full-length album will be released in four parts in the span of 6 months.
For Rubin, the most challenging aspect of recording music these days isn't writing everything himself or playing all the instruments. It's finding the time to record and tour between his work with two established bands. For more than a decade he has been the drummer for Nine Inch Nails and since 2011 he has worked as a songwriter and multi-instrumentalist for Angels & Airwaves. Understandably, being committed to two major touring bands made it difficult to schedule his own shows, let alone tours, which is why he didn't promote his first solo albums more heavily. In 2015, however, following a two-year world tour with NIN, Ilan found a yearlong window, in which he was able to tour with The New Regime extensively, supporting major acts including Muse, The Killers, Juliette Lewis, Alice In Chains, The Used, and more. The next logical step was to begin work on what would become his next full-length solo album, Heart Mind Body & Soul which, upon completion, was quickly picked up by RED Music. The album will be released in four parts between the end of 2019 and the first quarter of 2020.
"People digest music differently and much quicker today than they ever have," Rubin says, explaining why he chose to release in four parts instead of one full album all at once. "I felt like it would be doing the songs a disservice by releasing everything at once, especially since people seem to enjoy digesting music in small pieces. Unfortunately, I think the days of sitting down and listening to an entire album are gone for the majority of music listeners -- unless, maybe, they're stuck in traffic."
To an extent, Rubin is catering to the demands of the music-listening public. Perhaps more specifically, he's making an effort to maximize the potential of each new "part" so that none of his new songs fall between the cracks. At the same time, however, he refuses to create vapid, predictable pop tunes to increase his mainstream appeal. Of course, that doesn't mean Heart Mind Body & Soul isn't anthemic, infectious or creative.
The title track starts with a single bass note exchanging hits with a snare beat and blossoms into a euphoric, punk/new-wave-tinge track colored with bracing guitars and a soaring chorus. By contrast, "Surreal Disaster" opens with a luscious harmony and "oooh-ooooh-oooh" background vocals and builds into a decadent funk groove before showers of guitar-fueled sparks turn the song into something like a hybrid of Duran Duran and the Strokes.
"I like everything I've done, but this feels like a new beginning even though it's still me and I'm still writing, playing and singing everything," Rubin says. "But the music's constantly evolving so every time I write something new, I feel it's very fresh and it seems like a completely different thing to me than anything I've done before."
The first part, Heart, is a spirited overview of Rubin's new songwriting and a glimpse of what's still to come: "A Way to Feel Again," is highlighted by a melodic funk bassline, warbly, textural synths and an
electronic backbeat; "Feel No Pain" is a surging rocker driven by fuzzy guitars, syncopated rock drums and urgent vocals; "Turning a Blind Eye" is a deeper, darker song fueled by fidgety guitars, a brooding bassline and vocals that veer between half-spoken verses and harmonized choruses; and "You Can Be (Whoever You Want to Be)" is more experimental, featuring haunting keyboard sounds, abrasive guitars, and attitude-tinged vocals that build into a soulful chorus.
"I've really tried to focus on writing songs that I find interesting," Rubin says. "If something doesn't have a deeper meaning or another layer that you didn't know was there, then why would you keep listening to it? What makes it worth more than a handful of listens? So I always try to put elements into the song that will keep the listener coming back for more."
In addition to drawing inspiration from Jeff Buckley, The Police and – yes -- Nine Inch Nails, Rubin continues to follow the anything-goes spirit of his primary influences, Led Zeppelin, The Beatles and Queen. As a result, the broad combination of sounds The New Regime elicit is vaguely familiar yet always marked with Rubin's stamp.
"The biggest changes in my music come from never wanting to repeat myself or write something that's reminiscent of something I've already done," Rubin says." I have so many influences, from classical composers to Depeche Mode, and every time I do a new album it's another opportunity to do something different."
Like his favorite songwriters, Rubin revels in delivering the unexpected, and while he's a sucker for a strong hook he inserts just enough dissonance to provide atmosphere and contrast. He won't hesitate to interrupt a sunshiney melody with a mournful guitar line. Or he'll weave a reflective arpeggio into a pumped-up, celebratory melody. Rubin does the same kind of leapfrogging with his lyrics. Heart Mind Body & Soul is musically propulsive and sonically innovative, but the sentiment is often pensive as the rhythm bobs like a stick in the water close to the ocean shore.
"The songs are all like snapshots in time and they all reflect my take of what is going on these days with people and relationships and the experiences that lead me to write," Rubin says. "In life, there's very little that fits neatly into a box or is only one thing – one shade or one emotion. So some of these songs have a very personal touch because I see writing songs as a way of taking feelings of discontent and putting them towards something useful."
Rather than present clear-cut narratives in Heart Mind Body & Soul, Rubin prefers to paint pictures with music and color them with different emotional shades. While he presents some vivid imagery, overall his songs are abstruse, allowing the listener to interpret the meaning. All he'll cop to is that even some of the up-tempo funk-based songs sound melancholy for a reason.
"That's just where I tend to gravitate as a writer," he says. "And it's the way that I often feel. That doesn't mean that there aren't glimmers of hope. Everything in life is very multi-dimensional and the way we think and feel -- there are many layers to that, which is why the album is called Heart Mind Body & Soul. Each of these four words can be viewed in different ways. Heart could be about optimism and putting everything into something or someone… or it could be more about emptiness or pain that you feel in your heart."
Rubin started playing drums at his home in Bonita, California when he was seven and he quickly demonstrated a talent for the instrument. He also revealed an obsessiveness early on, which foreshadowed his lifelong devotion to music. By the time he was nine, he was playing in his older brother Aaron's band. The siblings continued playing together in the alt-rock band Denver Harbor (Universal Republic) and in his early teens Rubin started learning how to play other instruments; first, he picked up guitar, then bass and finally piano.
"The same obsession and thirst for knowledge I had for the drums carried on into these other instruments," Rubin says. "I spent my formative years as a teenager working on these instruments and I became very good at playing them. So, it's not like I'm best as a drummer and I'm an okay guitarist. I put in countless hours and years to get to the level of musicianship and creativity I wanted to reach. That's the main reason why I like to write and record all the music myself because I know exactly what it is that I want to achieve, and I can play all these instruments exactly as I want. It's like I'm a composer and I'm playing the score I hear in my head. So there's no need to work with anyone else."
In the mid-2000's Rubin joined an established British band and played with them for a couple years. That's when a mutual friend of Rubin and Trent Reznor encouraged Reznor to catch Rubin onstage. The opportunity came in 2007 when the two artists were playing at the English festivals, Reading and Leeds. "In hindsight, I'm shocked that Trent took the time to go watch me on stage," Rubin says. "But he did and he remembered me."
In late 2008, when Josh Freese left Nine Inch Nails, Reznor sent Rubin an email that changed his life and catapulted his career. The band was in the middle of their Lights in the Sky tour and Rubin was given eight Nine Inch Nails songs to learn for his audition. After playing them with the band at a soundcheck on the tour, Rubin got the gig. He played his first show with Nine Inch Nails in New Zealand in early 2009. Two years later, he was recruited to fill Atom Willard's slot in Angels & Airwaves. As much as Rubin loved playing drums for a powerful, enduring band like Nine Inch Nails. Being in Angels & Airwaves was a different kind of challenge.
When Rubin met AVA frontman Tom DeLonge, Rubin had already started writing and releasing songs for his new band. Not wanting DeLonge to think Rubin might grow dissatisfied as a drummer for Angels & Airwaves, the drummer stressed that he had no interest in interfering with the band's creative process and would be happy proving his worth behind the kit, as he did with Nine Inch Nails. To his surprise, DeLonge was interested in Rubin for the opposite reason.
"Tom said, 'No, I want you to help write the songs,'" Rubin recalls. "'That's exactly why I want you as opposed to just somebody else who can play drums well.' So that has been really exciting in the sense that we are actual collaborators and have found ways to work with each other even though we're almost polar opposites in what we listen to."
When Angels & Airwaves put together their touring schedule for 2019 and 2020, Rubin was hoping he'd have more of an opportunity to play shows with his own band. So he asked DeLonge if there was any chance The New Regime could open the tour. DeLonge happily offered Rubin the slot.
"These will be the first shows from The New Regime since I've written the songs for Heart Mind Body & Soul, so it really feels like the beginning of a new chapter. And of course, for me, it's going to be great to be able to play twice a night, since I love to play anywhere, anytime. I did that a little bit with Nine Inch Nails in 2018 and I found that it's very satisfying and gratifying to be in the zone for that long. There's so much energy and then when I finish the show at the end of the night, I feel like I just did what I love and I was exhausted by it, but happy."
Rubin has been yearning to play songs from Heart Mind Body & Soul ever since he started writing the record in late 2016, a year and a half after the release of his last release Exhibit B. When he was on tour, Rubin wrote on the bus, in hotels and in dressing rooms, and when he got home, he locked himself into his rehearsal space and kept writing until he had more than 20 songs. He demoed the material at his home studio in San Diego and when he was happy with the arrangements, he recorded the 16+ songs for Heart Mind Body & Soul during two sessions at Sonic Ranch Studios in Tornillo, Texas just outside of El Paso. Each session was about two weeks long and was co-produced, engineered, and mixed by his brother/manager Aaron.
"I did eight songs in 2017 between NIN tours and then I went back in August of 2018 and did another 12 songs," Rubin says. "When I go into the studio, I have a clear idea of how I want the songs to sound from top to bottom, but I'll intentionally leave some space and room for experimentation. There's no timeline so I'm not really paying attention to the clock. We'll just start working on a song and when it's done, we'll go to the next one. Before we know it, we'll have eight songs recorded. There's no drama or stress. It's all about being creative."
Looking back at the 16-plus tracks he created over the past few years, Rubin noticed threads that connected some of the tracks to others, so he divided the material into four groups, one for each word in the album title.
"A lot of it happens on a subconscious level, which I find really interesting," Rubin says. "When you ask yourself, 'What are these songs about, lyrically?' that's when you notice that a lot of similar lyrical ideas naturally took place over the creative process. The music was written naturally, the concept came about as a result of that and it just ironed itself out to create these ideas. So when you get to the end of the last part you've had all of these expressions of heart, mind, body and soul. At the same time, each part can stand on its own as a complete piece from the others. That way it won't feel like an unfinished project until Soul comes out which will also contain the three preceding album parts. At the same time, everything's interconnected so, if you want, you can really dig into the whole thing."
Links: Official Website | Facebook | Instagram | Twitter | Spotify


Ilan Rubin (born July 7, 1988) is an American multi-instrumentalist, who is known primarily for playing drums with bands such as Lostprophets, Nine Inch Nails, Angels & Airwaves and Paramore. He also has his own solo project called The New Regime.

Venue Information:
College Street Music Hall
238 College Street
New Haven, CT, 06510