Tedeschi Trucks Band: Wheels of Soul 2020 – Tickets – Westville Music Bowl – New Haven, CT – July 18th, 2020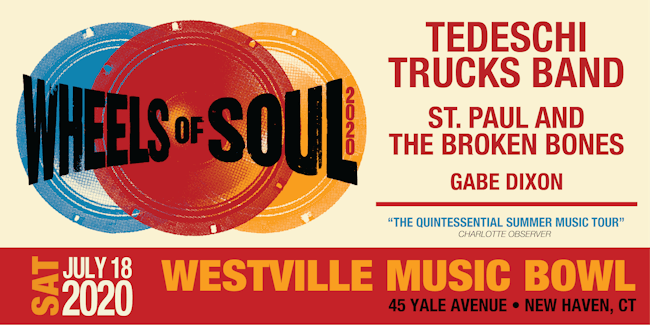 Tedeschi Trucks Band: Wheels of Soul 2020
St. Paul and The Broken Bones, Gabe Dixon
Westville Music Bowl
New Haven
,
CT
This event is fully reserved seated on the Floor and in the Bowl. Rain or shine event, no outside food or beverage allowed.
TEDESCHI TRUCKS BAND
Tedeschi Trucks Band carries a distinguished reputation as one of the premier live bands performing today - and they show no signs of slowing down as they head into their tenth year together. Led by Derek Trucks' stinging fretwork and Susan Tedeschi's naturally stunning, emotive vocals and guitar talents, the 12-member strong collective continues to expand musical boundaries in ways that only a rare caliber of musician can achieve.
When Derek and Susan decided to suspend their successful solo careers and join forces back in 2010, they were determined to do something different. With an original cast of eight band members, they loaded up two tour buses and hit the road. The nation's economy was heading into recession. The popular music landscape was filled with technological theatrics and auto-tuned singers. And here were TTB with a sound that defied conventional genre boundaries or traditional labels; a gypsy caravan on the rock-and-roll highway. To call it ambitious was an understatement.
In pursuit of their ideal sound driven by world class musicianship, Derek and Susan put together a musical collaborative like no other, flying in the face of any practical or economic considerations. There have been evolutionary changes to the band along the way, but the current line up includes the freight-train force of veteran drummers J.J. Johnson and Tyler Greenwell, long-time Derek Trucks Band member Mike Mattison, with his dynamic vocal and songwriting skills, Brandon Boone (bass guitar), Gabe Dixon (keyboards), the three-piece horn section of Kebbi Williams (saxophone), Ephraim Owens (trumpet), and Elizabeth Lea (trombone), and Mark Rivers and Alecia Chakour on vocal duties with Mattison. In February 2019, original band member and brilliant multi-instrumentalist Kofi Burbridge passed away, leaving an indelible mark on TTB's spirit and sound.
On the road for upwards of 200 days a year, the TTB family has grown strong, bonding over sold-out multinight residencies, backyard BBQs and long bus rides, all the while developing a growing repertoire of original material and paying homage to an extensive canon of influences ranging from Sly & the Family Stone, Miles Davis and George Jones to Joe Cocker, Nina Simone, and even Indian sarod master Ali Akbar Khan. Embracing improvisation over convention, the collective is adept at exploring almost any musical territory and never play the same set list twice.
The genuine respect within its ranks is evident on stage. Derek's masterful guitar skills and Susan's soaring vocals and bluesy guitar shine but don't overpower the breadth of talent, happily yielding the spotlight as needed in service of what the song deserves.
TTB's most recent studio album, Signs, is a powerful, introspective record that exemplifies the group's evolving depth of songwriting and musicianship. Called "an inspirational album for the times" by the Associated Press, Signs is dedicated to several past mentors of the band – including Colonel Bruce Hampton and Derek's uncle Butch Trucks – and is sadly the final album to feature Kofi Burbridge who passed away on the day of the album's release in February of this year. Signs follows Live From The Fox Oakland (2017), a Grammy-nominated film/audio release that added to a quartet of critically-hailed and commercially successful albums: the Grammy-winning debut, Revelator (2011), Made Up Mind (2013), and Let Me Get By (2016).
Links: Official Website | Facebook | Instagram | Twitter
ST. PAUL AND THE BROKEN BONES
St. Paul & The Broken Bones formed in 2012, releasing their debut album Half the City in 2014 and its follow up, 2016's Sea of Noise, to much acclaim. Those strong efforts helped place them on the national scene, and the band worked hard to prove they were no mere retro-soul band—from touring the world relentlessly, including being selected to open for The Rolling Stones and headlining two nights at the Ryman Auditorium, to TV appearances including The Late Show with David Letterman, Jimmy Kimmel Live, Conan, Austin City Limits and two appearances on The Late Show with Stephen Colbert, one being the very first episode. Paul Janeway's fearless showmanship, thoughtful lyrics, and dedication to his performance soon became the band's calling card and paired with the inventive and skillful direction of co-band leader Jesse Phillips as well as a full eight-man roster comprised of some of the best young instrumentalists in the South, they soon became a must-see event. (In addition to Janeway on lead vocals and Phillips on bass and guitar, the lineup is rounded out by Browan Lollar (guitars), Kevin Leon (drums), Al Gamble (keyboards), Allen Branstetter (trumpet), Chad Fisher (trombone) and Amari Ansari (saxophone), who replaced Jason Mingledorff following the album's recording). Over time, Janeway has learned the art of balancing expectations and how to reconcile his past with his future, just as his band have learned how to overcome their perception by pushing against its ceiling. In embracing those things he cannot change, he has forged ahead as an artist and as a man. And with his band's latest album, Young Sick Camellia (RECORDS), Janeway has created a space for St. Paul & The Broken Bones to rival any forward-thinking band making music today, based on a concept all-too familiar to him: family, and how we love them despite our differences.
Links: Official Website | Facebook | Instagram | Twitter
GABE DIXON
Born and raised in Tennessee, Gabe Dixon is a Nashville-based singer-songwriter and multi-instrumentalist. Since he first emerged in 1999, he has been penning honest and heartfelt tunes that continue to garner fans and crowds across the globe. "Live Again", a Gabe Dixon original, was recently chosen by Garth Brooks to bookend "The Trilogy" along with "Let it Be" and "Hey Jude" at his Live from Notre Dame Concert in front of nearly 100K fans and a National TV audience. Gabe's songs have also been featured in major films such as The Proposal and TV shows such as Nashville, Grey's Anatomy, Vampire Diaries and Parks & Recreation. Along with his own appearances on Jimmy Kimmel Live! and The Late Late Show, Dixon has performed with notable acts like Paul McCartney, Alison Krauss & Union Station, Supertramp, Loggins & Messina, and O.A.R. In 2019, he began touring with Tedeschi Trucks Band while also working on his new album, which is slated to release in 2020.

Links: Official Website | Facebook | Instagram | Twitter

Venue Information:
Westville Music Bowl
45 Yale Avenue
New Haven, CT, 06515