The Way I Am (Or Not At All) – Tickets – Space Ballroom (Front Room). – Hamden, CT – March 6th, 2020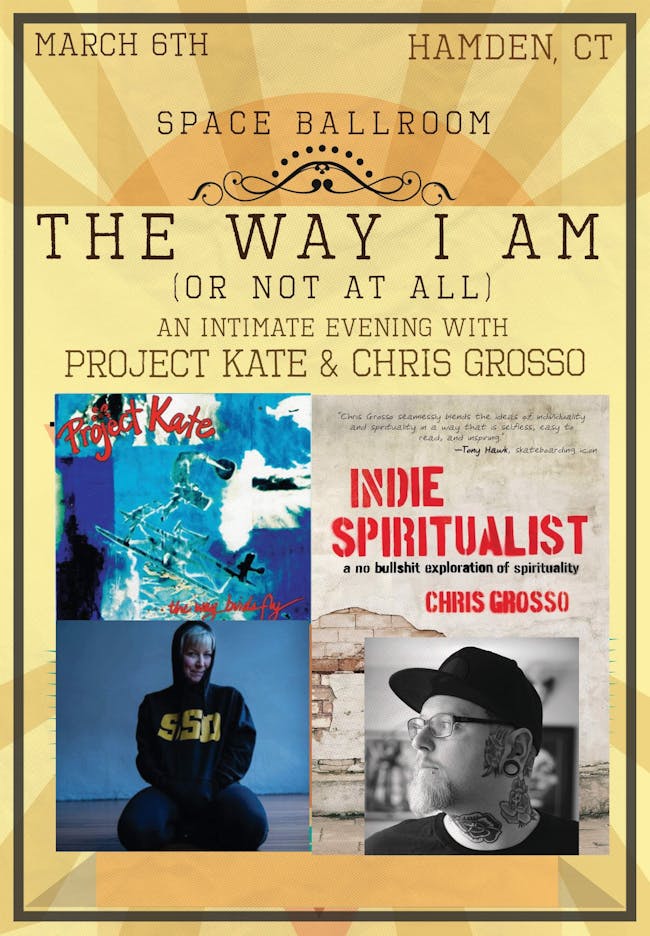 An Intimate Evening with Project Kate and Chris Grosso
The Way I Am (Or Not At All)
Project Kate, Chris Grosso
Space Ballroom (Front Room).
Hamden
,
CT
**This show has been POSTPONED. Refunds are available from point of purchase. We hope to have a new date soon**
THE WAY I AM (OR NOT AT ALL)
Beloved 90's indie rock endeavor Project Kate (Keli Lalita of 108) & Simon and Schuster author Chris Grosso are coming together for the first time at Space Ballroom in Hamden, CT. The duo will be offer something a bit different than your traditional show. Keli will be performing Project Kate songs while Chris will be reading various selections from his books (with Keli accompanying him on guitar). The two will flow back and forth in this format, taking intermittent breaks to share various life stories—from silly to poignant to inspiring—while encouraging audience participation. The evening will conclude with Q&A and conversation.
CHRIS GROSSO
Chris Grosso is a sought-after author, public speaker, writer, musician and youth wellness group facilitator. He is the author of three majorly published books, the first titled, Indie Spiritualist: A No Bullshit Exploration of Spirituality (Atria/Simon & Schuster, 2014). Booklist described him as "a fellow who explores the nature of his soul by mixing up individuality and spirituality." Library Journal wrote "It is too easy to assume that America's young rockers and hipsters are all casually nihilistic, but Grosso taps into the deep yearning for authentic spirituality—questions allowed." Publishers Weekly said that Chris "…writes with refreshing wit and candor, deeply and broadly reflecting on what it means to be human, personally and collectively." Regarding his second book, Everything Mind: What I've Learned About Hard Knocks, Spiritual Awakening and the Mind-Blowing Truth of it All (Sounds True, 2015), Publishers Weekly had this to say: "Grosso's advice avoids the sappy, clean-living reform rhetoric of most enlightenment memoirs… His low-key offer of tools for experiencing the oneness of life is human and humble, while secure in understanding its profound value, like a friend putting a hand on your shoulder on a rough day." His third book, Dead Set On Living (Simon & Schuster/Gallery, 2018), received Book Authority's award of "Top 100 Drug Addiction Books of All-Time" (placing 8th). In addition to teaching bi-weekly wellness workshops at Newport Academy in Bethlehem, Connecticut, Chris hosts the Indie Spiritualist podcast on Ram Dass's Be Here Now Network. He also writes for Revolver Magazine, Fangoria, and Huffington Post. Chris's work has been endorsed by a wide range of individuals including Tony Hawk, Jeff Bridges, Bam Margera, Ram Dass, Scott Kelly (Neurosis), Sharon Salzberg, Alex Grey (Visionary Artist), and more.
Links: Official Website | Facebook | Twitter | Instagram
PROJECT KATE
Project Kate was a short-lived, New York-based project that centered around Kate Reddy (Keli Lalita), guitarist for hardcore band 108, that included many East Coast hardcore scene notables. Project Kate songs were acoustically driven, laid-back ballads expressing Reddy's private thoughts on her parents, marriage, spirituality, and love. Reddy recorded the album while eight months pregnant -- and the love, warmth, and affection she felt for her soon-to-be expanding family is evident throughout the simple, yet heartfelt, recordings. Reddy began playing acoustic guitar with her friend Shannon in Shannon's dad's basement in 1987. But the Project Kate concept never formally materialized until 1991, when she began jamming with the then-Quicksand rhythm section of drummer Alan Cage and bassist Sergio Vega, who himself would go on to release solo material in 2000. They jokingly referred to what they were doing as "Kate" as they goofed around in a basement rehearsal space. The trio recorded three songs for free in July 1991 at Centerfield Studio. That fall, Reddy recorded a song called "California" by herself at the same place. Around this time, Quicksand signed to a major label and began touring and recording with far more regularity, so Project Kate fell apart. Reddy joined the Hare Krishna organization and eventually the band 108, married Equal Vision Records owner Steve Reddy, and began running the label with him. The two of them decided they wanted to release the Project Kate demo, but it was lost. Original engineer Mike Maineiri would later find the tape behind a dresser during a move, but before that happened, Kate Reddy had already assembled a new version of Project Kate and re-recorded three of the original songs, along with five new ones, in December of 1995 and January of 1996. These recordings, made with producer Ray Martin, surfaced as the album ...The Way Birds Fly in 1996. the album carries a dedication to newborn baby Kaulini Reddy in the liner notes. The other musicians involved included then-Texas Is the Reason/later New End Original guitarist Norman Arenas (on the track "Simon Says"), bassist Vega, drummer John K., and violin player Ida Pearle. Texas Is the Reason/New Rising Sons frontman Garret Klahn was also involved to some degree.

Links: Official Website | Keli Lalita Facebook | Keli Lalita Instagram | 108 Facebook | 108 Instagram

Venue Information:
Space Ballroom (Front Room).
295 Treadwell Street
Hamden, CT, 06514