Yacht Rock Revue – Tickets – Wall Street Theater – Norwalk, CT – July 17th, 2020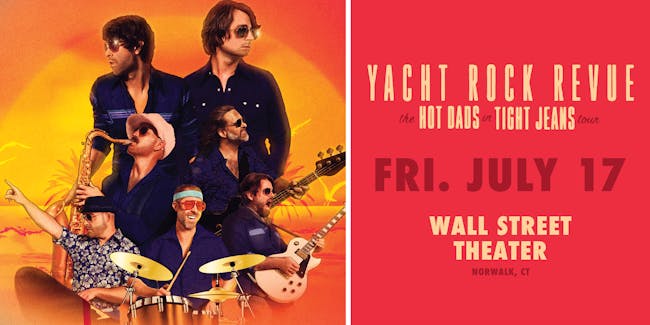 SiriusXM Yacht Rock Radio presents:
Yacht Rock Revue
Wall Street Theater
Norwalk
,
CT
$25.00 - $75.00
Postponed
This event is Reserved Seated on the Floor with General Admission Standing Pit, as well as Reserved Seated in the Balcony.
In the interest of public health, Yacht Rock Revue has postponed their 3/26 show until 7/17. Hold onto your tickets as they will be honored for the rescheduled date. Refunds are available at point of purchase until 4/20 at 10PM.
YACHT ROCK REVUE
The Yacht Rock Revue is everything the late '70s and early '80s should've been: massive sing-along soft rock hits, tight bell-bottom jeans, impeccable musicianship, polyester shirts, glorious vocal harmonies, sunglasses at night, breezy dancing and sax … lots of sax. "They're a trip down memory lane that skips all the bad neighborhoods," according to Robbie Dupree. It's pure Escape (The Piña Colada Song.)

From Hall & Oates, Kenny Loggins and Michael Jackson to one-hit wonders like "Brandy'" and "Baby Come Back," YRR brings stadium rock energy to the music you love from your dentist's office. Hundreds of songs – many of which would be the original artist's encore – keep audiences guessing what's next. But they know every word, and Toto's "Africa" has never sounded so good.

The Yacht Rock Revue has defined and popularized a genre that was a fringe guilty pleasure when the group played its first show as a basement bar band in 2007. Fast forward to 2018 and it's just like quinoa – a few years ago nobody knew about it but now all the girls love it. Yacht Rock has a dedicated SiriusXM channel and YRR sold out Atlanta's 6,500-seat Chastain Park Amphitheatre. A national tour partnership with Live Nation and the SiriusXM Yacht Rock Channel has the Yacht Rock Revue primed to reach a record number of soccer moms in 2019.

YRR has gone far beyond the "tribute" category by regularly joining their heroes on stage: John Oates, Eddie Money, Little River Band, Pablo Cruise, Gary Wright, Robbie Dupree, Matthew Wilder, Elliot Lurie of Looking Glass, Juice Newton, Ambrosia, Starship, Bobby Kimball of Toto, Player, Jeff Carlisi of .38 Special, Steve Augeri of Journey, Al Stewart, Albert Bouchard of Blue Oyster Cult, Rick Derringer, Walter Egan, Bill Champlin of Chicago and Denny Laine of Wings have all played their hits with YRR.

Yacht Rock Revue has set sail on music cruises (of course) with Train, Weezer, Kid Rock, Kiss, Heart and the Zac Brown Band. From the Playboy Mansion to the NCAA Final Four, Santorini to Costa Rica, Cabo San Lucas to London – these guys are the captains of smooth, internationally.

YRR has won accolades ranging from "Best Place to Get Drunk With Your Dad" to "Best Overall Music Act in Atlanta" to "Best Place to Start an Extramarital Affair," and has been name-dropped by the New York Times, Wall Street Journal, Pitchfork, the Guardian UK, Spin, TimeOut New York, Billboard, MTV.com, and (probably) your mom at her last cocktail party.

"Yacht Rock Revue has created a musical movement that has spread across America. They're exemplary musicians who really know their stuff… I mean, they really know our stuff."

– Robbie Dupree

"I thought they were kind of goofing on that music and that era. But as it turns out, they're actually really passionate about it and they do it very seriously. And they turned out to be great guys."

– John Oates

"I've had more bras thrown at me at Yacht Rock Revue shows than usual. And that's a lot."

– Peter Beckett of Player

Links: Official Website | Facebook | Instagram | Twitter | YouTube | Soundcloud

Venue Information:
Wall Street Theater
71 Wall Street
Norwalk, CT, 06850